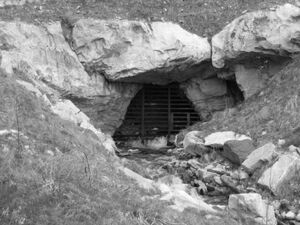 "Some kind of stone cavern which must previously have served as a burial place or shelter... Go and take a look. Inside, it is absolutely pitch black, the air is icy and there is a strong smell of rotting flesh..."
The cave is a special zone that can be found in the desert.
Exploring Loot
Edit
Human Flesh;
Chest;
Giant Rat;
Giant Snake;
Ad blocker interference detected!
Wikia is a free-to-use site that makes money from advertising. We have a modified experience for viewers using ad blockers

Wikia is not accessible if you've made further modifications. Remove the custom ad blocker rule(s) and the page will load as expected.